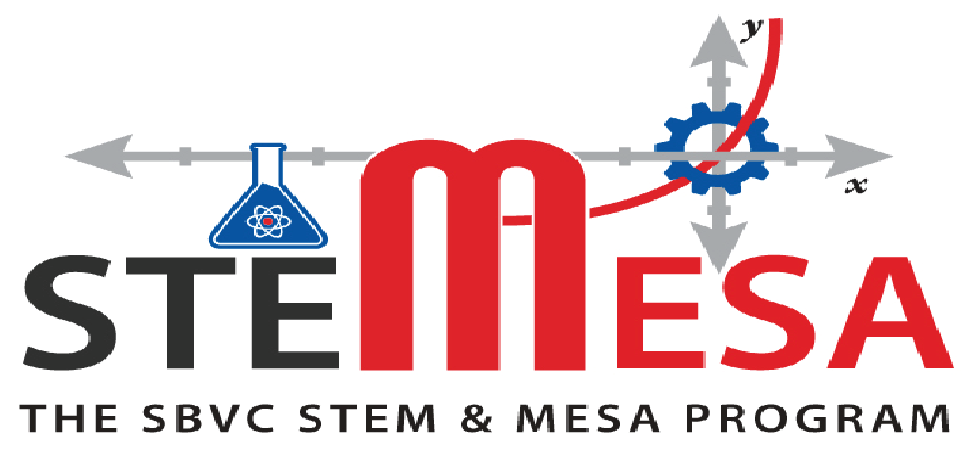 Hours of Operation:
Monday 8:00 AM – 8:00 PM (Free tutoring and resources)
Tuesday 8:00 AM – 8:00 PM (Free tutoring and resources)
Wednesday 8:00 AM – 8:00 PM (Free tutoring and resources)
Thursday 8:00 AM – 8:00 PM (Free tutoring and resources)
Friday 9:00 AM – 5:00 PM (Free tutoring and resources)
What Does the STEM-MESA Program Offer?
The STEM-MESA Program provides STEM students with free tutoring and Supplemental Instruction (SI) sessions throughout the academic year to help students develop successful study skill habits. STEM students receive academic support to help set educational goals, career exploration, and a wide-range of workshops. Additionally, students can participate in STEM related activities, on campus events, and field trips.

Orientation Days/Times

Register NOW (click here)! A zoom link will be sent to your email after you register!

Thu 3/16/2023 4:00 PM - 5:00 PM

Fri 3/17/2023 12:00 PM - 1:00 PM

Fri 4/14/2023 12:00 PM - 1:00 PM

STEM-MESA Counseling

Please click on the following link to find a STEM-MESA counselor!
The ALEKS Lab
The ALEKS lab provides a lot of insight help, especially with one-on-one tutoring and strenghting your skills. Find out how you can enroll in Math 601 (non-credit course). The course highlights mathematical properties, fundamental operations of whole numbers, integers, fractions, decimals, ratios, proportions, word problems, and percentages. Topics include: exponential notation, linear equations, variables, polynomials, and the appropriate operation rules for rational numbers, whole numbers and integers.
For further details, please contact STEM Counselor, Abena Weber: aweber@valleycollege.edu
Accelerated Math Co-hort Classes
If you wish to register into the accelerated math co-hort classes a petition is required from STEM Counselor, Dr. Smith-Morton. To apply for the petition, please sign up at www.sbvcstem.org/co-hort. Co-hort registration will have an extended registration period, as these courses are not open for general student registration. Please check your email multiple times each day to receive notice of being registered and to ensure you pay all fees within a 24-hour period after being registered. Failure to pay fees within 24-hours of registration will result in being dropped from the course.
If you have questions for Dr. Smith-Morton regarding the accelerated STEM Math co-hort classes, please contact her at: dasmith@valleycollege.edu