STEM-MESA Tutoring
The services provided by the STEM-MESA Center (PS-121) are here to help you succeed at San Bernardino Valley College by providing academic support, tutoring, and academic excellence workshops in multiple subjects to a diverse group of learners. We take special care to empower students with learning strategies and skills needed to become independent learners on the path towards academic success!
Operating Hours :
Spring 2023: January 17th - May 23rd
Monday 8:00 AM - 8:00 PM
Tuesday 8:00 AM - 8:00 PM
Wednesday 8:00 AM - 8:00 PM
Thursday 8:00 AM - 8:00 PM
Friday 9:00 AM - 5:00 PM
The STEM-MESA Center (PS-121) will be closed on the following days:
Friday, February 17th
Monday, February 20th
Monday, March 20th - March 24th
Tutoring Subjects :
Biology
Chemistry
Computer Science
Geology
Math
Nursing
Physics
Resources Available
You will need a valid Student I.D. card to check out any of the following resources:
iPADs
Laptops
Textbooks
Graphing/Scientific Calculators
Anatomy Models
Private Study Rooms
School Supplies (i.e. whiteboards, color pencils, scissors, rulers, markers, etc.)
Other Resources
Computer Lab
Printing Services
Tutor Led Workshops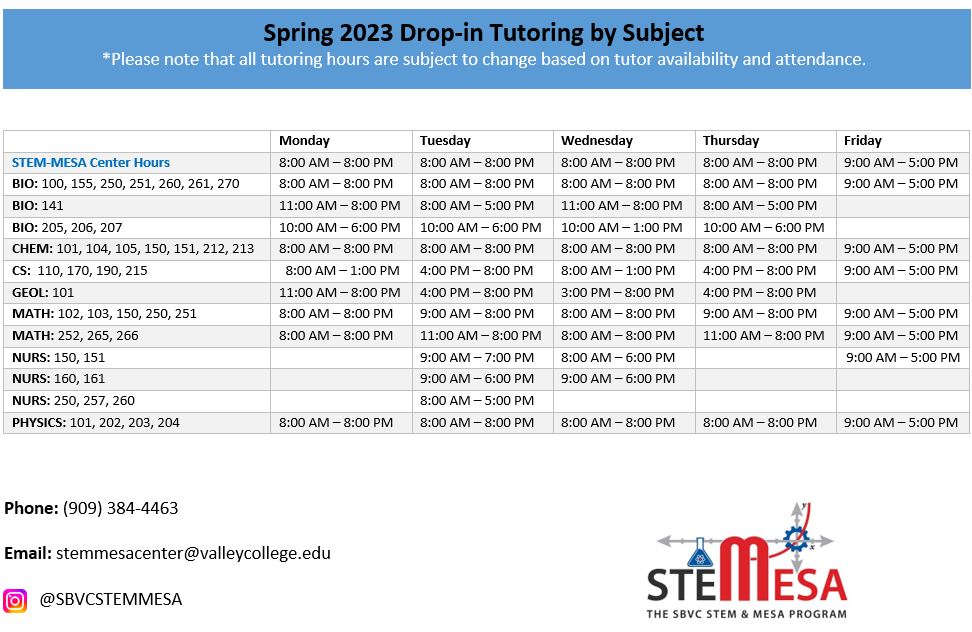 Our Policies:
A current SBVC or CHC Student ID Card is required for all resource loans.
Sign-in is required upon entry and sign-out is required upon leaving.
No food or drink permitted except for water in a closed container.
Only currently enrolled students may use the center.
Children are not allowed in the center.
Tutors cannot help with quizzes/tests/exams.